Für unseren Standort Köln suchen wir ab sofort
Senior Magento Developer (w/m/d)
Nimm Anlauf und spring in die brandung! Erfrische uns mit deinen kreativen Ideen und technischen Skills und treib unsere inhabergeführte Digitalagentur für smarte Online Kommunikation und E-Commerce Lösungen stromaufwärts.
Zur Verstärkung unseres E-Commerce-Teams suchen wir zum nächstmöglichen Zeitpunkt einen Senior Magento Developer (w/m/d) in Köln.
Dein Spielfeld
Entwicklung anspruchsvoller und individueller digitaler Anwendungen für unsere Kunden, sowohl B2C als auch B2B Shops
Erstellung von technischen Konzepten und Software-Architekturen
Entwicklung von Schnittstellen zwischen B2C/B2B Online-Shops und bestehenden Warenwirtschaftssystemen auf Kundenseite
Direkte Kommunikation mit den technischen Dienstleistern für die Warenwirtschaftssysteme
Deine Skills
Berufserfahrung im Bereich objektorientierter Programmierung mit PHP 5/7 sowie in der Umsetzung von Magento Projekten
Keine Angst vor der Konsole in Unix/Linux und Webservern
Wissensdurst gepaart mit einem hohen Anspruch an deine eigene Arbeit
Erfahrungen mit SQL sowie im Profiling und der Performance-Optimierung von Magento-Installationen
Deine Benefits
Ein 45-köpfiges Entwicklerteam mit aktivem Wissensaustausch
Wir sponsern deine Weiterbildung: Mage Unconference Teilnahme, Zertifizierung zum Professional Developer und was sonst noch dein Entwicklerherz begehrt
Weiterentwicklung in anderen E-Commerce Tools wie Shopware
Moderner technischer Arbeitsplatz mit freier Hardware Wahl zwischen Mac und Windows Hardware für deinen Workspace
Dein Team
An unseren Standorten in Köln und Berlin arbeiten mehr als 170 Mitarbeiter an innovativen Projekten für Kunden wie 1. FC Köln, Ferrero, Steiff, McFit, HDI und WWF. Unsere agilen Workflows ermöglichen dir effektive Teamarbeit in allen Bereichen - Projektmanagement, Kreation und Entwicklung. Mach dir ein erstes Bild von unserem Arbeitsalltag und von deinen neuen Kollegen.
YOUR APPLICATION SEQUENCE
It can't happen quickly enough for you? Excellent – long waits do not apply to our application process. It is our aspiration that you will receive feedback within at least a week following each recruitment step. We do of course address the individual needs of all our applicants, but in order to provide you with a first impression, here is a rough guide to our application process.
Applying online
Found your dream job? In that case it is now up to you!
Telephone interview
Getting to know each other for the first time: A discussion with our HR department
Job interview
Getting to know us on-site in a meeting with our HR department and your future line manager
Test day
Get to know your everyday working routine and your team on site!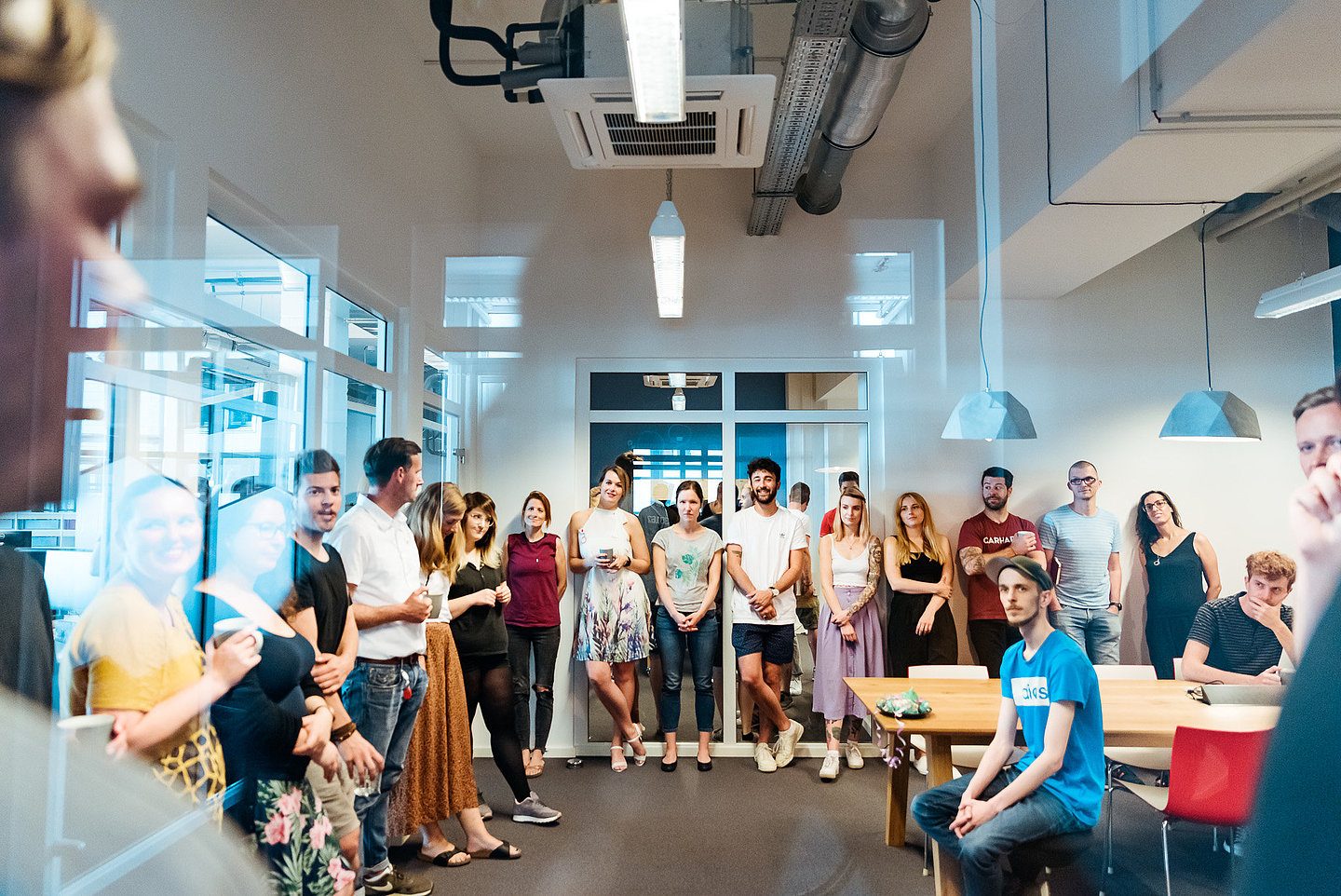 WHY MOVE TO BRANDUNG?
15 Reasons that speak in favour of us
You can't choose your own family, but you can choose your employer. It is understandable that you would therefore like to gain an overview of your benefits working for us. In this case, we submit an application to you first!

More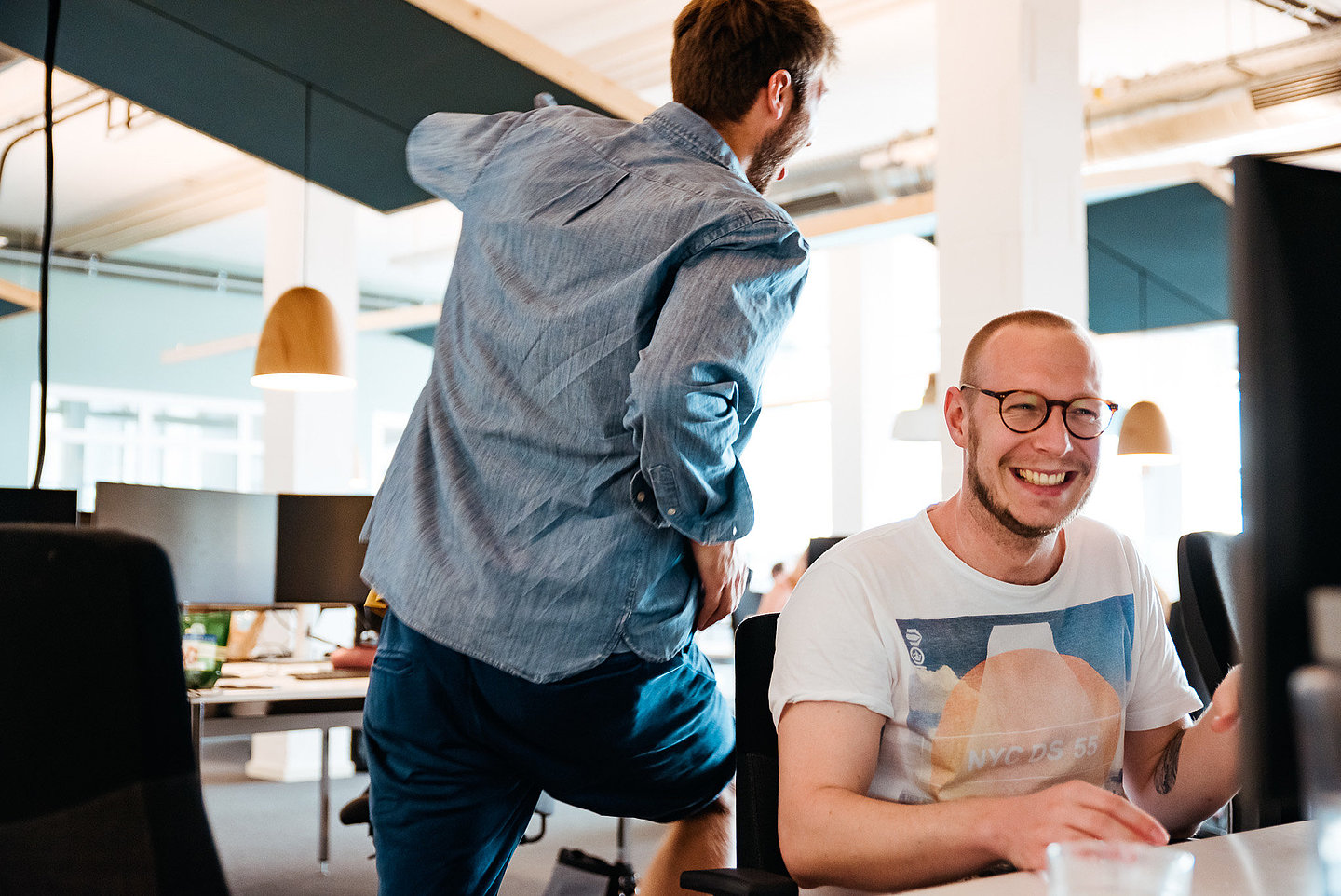 Insights
what you see is what you get
Smart employees, zany characters and a not inconsiderable feel good factor: Become better acquainted with the Berlin and Cologne brandung offices here. After all you do want to know what you are letting yourself in for, right?
More
A BREATH OF FRESH AIR FOR YOUR INBOX
Projects. Trends. Events. Jobs. You can subscribe to brandung's newsletter here.