Insights
This is who we are! 100% brandung with all our qualities and quirks - sometimes full of crazy ideas, generally entirely normal, yet on the whole, mind-blowingly magnificent. See for yourself!
OUR EVERYDAY WORK
What goes on here? A lot of time spent together, development of ideas and focused work, cookery sessions and table football during our breaks, playing FIFA in the gaming zone and much more besides. That is what normal working days are like at brandung!
FOLLOW US
Always keep up to date with our latest news: You can keep abreast of all the latest news concerning current go-lives, new colleagues and cool events on Facebook, Instagram and Twitter. And whenever the kitchen once again resembles a Bavarian indoor Biergarten during the agency breakfast break, professional sportsmen or pop stars once again turn up at brandung or our clients shower us with chocolate - you will see it here first!
Was würdest du tun, wenn du nur eine Stunde am Tag arbeiten würdest?🤔 Wie man sich noch besser(😉) priorisiert und seine Zeit optimal über den Arbeitstag verteilt, haben wir heute in nem kompakten Workshop mitgenommen. Lena hat jetzt auf jeden Fall richtig #bock!😁 (und Jasmin, Sandra & Coco auch😉) #workshop #zeitmanagement #timingistalles #stopp #priorities #weiterbildung #brandungcampus #agencylife #agenturleben #agenturalltag #teamlife #teambrandung #agenturbrandung #digitalagency #köln #cologne
Für mehr WOW: Unser Kunde @mcfit zeigt zu Jahresbeginn, wie man mit mehr Spaß, Power und Balance ins Training startet. Wir zeigen, wie man das Ganze digital transportiert und launchen die Landingpage zur Kampagne sowie den Facelift der Website mcfit.de. . ➡️Den Link zum Projekt gibt's wie immer bei Facebook! #relaunch #website #websiterelaunch #digitalproject #landingpage #fürmehrwow #digitalcommunication #digitalproject #usability #mobilefirst #fitness #fitnessstudio #mcfit #mehrpower #stolzaufmich #gym #januar #januaraktion #typo3 #react #digitalagency #agenturbrandung #berlin
#effzeh! Wer unsere Stories verfolgt, konnte am Samstag gemeinsam mit unserem Kunden @fckoeln und dem Projektteam 24/7 FC in der #eventloge mitfiebern und mitfeiern⚽️ Wie es war? Einfach unbeschreiblich. Et jitt kei wood...🔴⚪️ #1fckoeln #fckoeln #heimsieg #aufdienächsten4 #stadion #rheinenergiestadion #bundesliga #spürbaranders #spürbardigital #digitalproject #247fc #digitalagency #agenturbrandung #agencylife #teamlife #crewlove #teambrandung #etjittkeiwood #fcbrandung #köln #cologne
Liebe Freunde der gepflegten UX, hebt euch für Aschermittwoch noch ein bisschen Energie auf! Da hosten wir die #uXchange in der Kölner brandung - und reden nicht über begangene Karnevalssünden, sondern u.a. über die Verantwortung im UX Design für gute und nachhaltige digitale Projekte. Wir freuen uns auf dieses tolle Meetup und jeden von euch, der vorbeischaut☺️ . ➡️Den Link zur Anmeldung gibt's wie immer bei Facebook! #meetup #ux #cgn #uxmeetup #userexperience #uxdesign #uxdesigner #usability #changeofperspective #digitalproject #digitalagency #agenturbrandung #sandboxcologne #sandboxcgn #cologne #köln #teambrandung
#bouldernight: Irgendwie haben wir das in Köln für uns entdeckt - und die Gruppe wird bei jedem Mal ein bisschen größer🙌🏽 Gestern wars zu voll und wir fast zu viele, um ein schönes Gruppenfoto zu machen. Daher hier ein #flashback mit perfektem Posing vom letzten Mal im @boulderplanet_koeln👌 Vielleicht brauchen wir bald auch einfach unsere eigene Wand im Büro?🤔 #träumenerlaubt #thinkbig #bouldern #upintheair #reachhigh #haveabreak #boulderbreak #klettern #aktivepause #köln #cologne #teamlife #teamboulder #agencylife #agenturbrandung
#newproject mit FERRERO: Wir launchen die neue Website für duplo! Hier tauchen Fans auf dynamische Art und Weise in die Welt der wahrscheinlich längsten - pardon, smartesten🤓- Praline der Welt ein👌 . ➡️Den Link gibt's wie immer bei Facebook. Und so wie es der TV Spot schon optimal vormacht: Klicken und teilen ist natürlich immer gerne gesehen ;) #relaunch #website #digitalcommunication #digitalproject #duplo #ferrero #längstepralinederwelt #smartestepralinederwelt #schoko #schokoholic #smart #klicken #teilen #mobilefirst #brand #brandexperience #react #nextjs #agenturbrandung #digitalagency #berlin
Cologne
Berlin
TAKE A PLUNGE AT BRANDUNG
We require a german language level of B1 or higher, this is why our job postings are only available in german!
Whether you are a techie, UX developer, project manner or a designer: we look forward to recruiting motivated new faces for our teams in Cologne and Berlin. Click here to see our agency insights and job offers.
SEE ALL JOB OFFERS (ONLY IN GERMAN)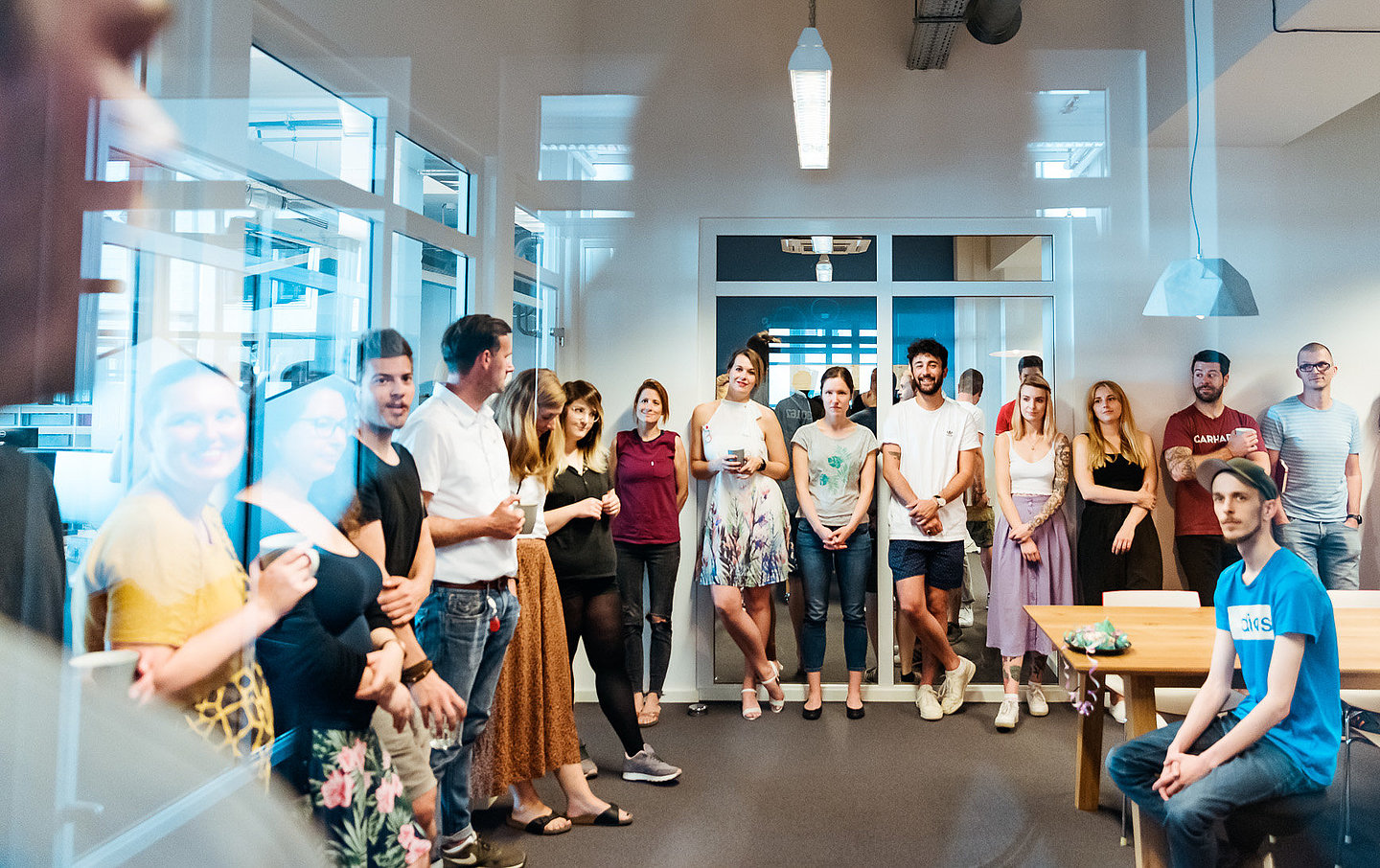 WHY MOVE TO BRANDUNG?
15 Reasons that speak in favour of us
You can't choose your own family, but you can choose your employer. It is understandable that you would therefore like to gain an overview of your benefits working for us. In this case, we submit an application to you first!
Learn more
YOUR CONTACTS
Names are good but it is better to be able to put a face to a name: whom should I actually send my application in this case? With whom will I have my first interview? Your first contact with us always goes through our HR department – and here you get to see directly with whom you are dealing.
EMPLOYEE CENTRICITY
Not just a buzzword but a conviction we have put into practice
Cheesy but true: in the main we absolutely love working here and are proud that people also sense this is the case throughout all the various channels. But at the same time an open feedback culture is very important to us here and we are constantly trying to improve ourselves. Obtain an overview here of what (former) employees and applicants have to say about us.
160 Bewertungen
A BREATH OF FRESH AIR FOR YOUR INBOX
Projects. Trends. Events. Jobs. You can subscribe to brandung's newsletter here.