Insights
This is who we are! 100% brandung with all our qualities and quirks - sometimes full of crazy ideas, generally entirely normal, yet on the whole, mind-blowingly magnificent. See for yourself!
OUR EVERYDAY WORK
What goes on here? A lot of time spent together, development of ideas and focused work, cookery sessions and table football during our breaks, playing FIFA in the gaming zone and much more besides. That is what normal working days are like at brandung!
FOLLOW US
Always keep up to date with our latest news: You can keep abreast of all the latest news concerning current go-lives, new colleagues and cool events on Facebook, Instagram and Twitter. And whenever the kitchen once again resembles a Bavarian indoor Biergarten during the agency breakfast break, professional sportsmen or pop stars once again turn up at brandung or our clients shower us with chocolate - you will see it here first!
AUS AUS AUSGEZEICHNET!! 🏆🏋️‍♀️🏋🏽‍♂️ @johnreedfitness_ und wir haben die #TYPO3awards gerockt - denn die beste Sports Website 2019 geht an uns! Yeah! Den Link zum Projekt gibt's bei Facebook✌️ #winner #typo3 #award #awards #website #relaunch #digitalproject #awardproject #digitalagency #agenturbrandung #berlin #fitness #music #urbanculture #johnreed #johnreedfitness #mcfit #challenge #accepted #completed
#spürbar nah: Der @fckoeln gibt uns jetzt die heißesten Insights aus der laufenden Saison. Danke an den #effzeh, dass wir das Hammerprojekt 24/7 zusammen mit @spryker umsetzen durften! Hat #bock gemacht!🐏 Den Link gibts bei Facebook☝️ #fcköln #1fc #1fcköln #247 #doku #saisondoku #spürbaranders #spürbardigital #spürbarnah #ohneschminke #allesreal #allesecht #newproject #launch #spryker #angular #agenturbrandung #fcbrandung #digitalagency #digitalproject #köln #cologne #buli #bock
Gestern war unsere erste KICKERnight @agentur_brandung und was sollen wir sagen es war ein spannender und fairer Wettkampf! ⚽ Gewonnen hat das Team "Serviceplan" Von der Agentur @serviceplan Natürlich wollen wir eine REVANCHE und uns den Pokal zurückholen! 🏆 Danke nochmal an alle Teilnehmer @publicispixelpark @serviceplan @enno.digital @teamadbaker @okaese.de, MIRA Consulting @forkunstablemedia @jagdtotal für den lustigen & schönen Abend.
Hello #digitalplayer🙌🏽 Wen von euch treffen wir nächste Woche bei der @esbnetzwerk Digital Sports & Entertainment in Berlin? Schaut mal bei @shopware und uns vorbei und lasst euch den Tag versüßen!🍭 Freuen uns auf euch! #letstalk #about #ecommerce #hitthatsweetspot #shopware #esb #esbnetzwerk #esbmarketing #digitalsports #DSE #onlineshop #ticketshop #merch #digitalagency #agenturbrandung #brandungontour #berlin
Jan freut sich sichtlich über die nette Abwechslung zum grauen Entwickleralltag: Das @freundinmagazin ist bei uns eingeflattert! Bitte nach dem "Sex ist wie Pizza"-Artikel noch weiterlesen - denn da sind die TOP Arbeitgeber 2019 aufgelistet, ermittelt von der #freundin und @kununu_com. Und ratet mal, wer wieder dabei ist?Yes! 😁😍🙌🏽 #toparbeitgeber #toparbeitgeber2019 #toparbeitsplatz #toparbeitskollegen #agenturbrandung #digitalagency #familienfreundlich #since #2003 #cologne #köln #berlin #teamlife #agencylife #crewlove #springindiebrandung
Welcome to brandungs #agile academy! Gestern fand die erste interne Schulung mit unseren "Neuen" in Berlin statt. Wie hat's euch gefallen?🤓 #agileworking #agiledevelopment #agilemindset #agilesarbeiten #scrum #academy #inhouse #agilemanifesto #agenturbrandung #berlin #digitalagency #agencylife #teambrandung
Kann es einen schöneren Start ins Wochenende geben als die #php Usergroup Cologne?❤️ Den Link zur Veranstaltung gibt's bei Facebook. Wir freuen uns auf Bier, Snacks und natürlich Euch!☝️ #friday #weekendvibesonamonday #phpugcgn #phpug #phpusergroup #barcamp #meetup #tech #techmeetup #event #köln #cologne #sandboxcologne #brandung #agenturbrandung #digitalagency
Köln
Berlin
TAKE A PLUNGE AT BRANDUNG
We require a german language level of B1 or higher, this is why our job postings are only available in german!
Whether you are a techie, UX developer, project manner or a designer: we look forward to recruiting motivated new faces for our teams in Cologne and Berlin. Click here to see our agency insights and job offers.
SEE ALL JOB OFFERS (ONLY IN GERMAN)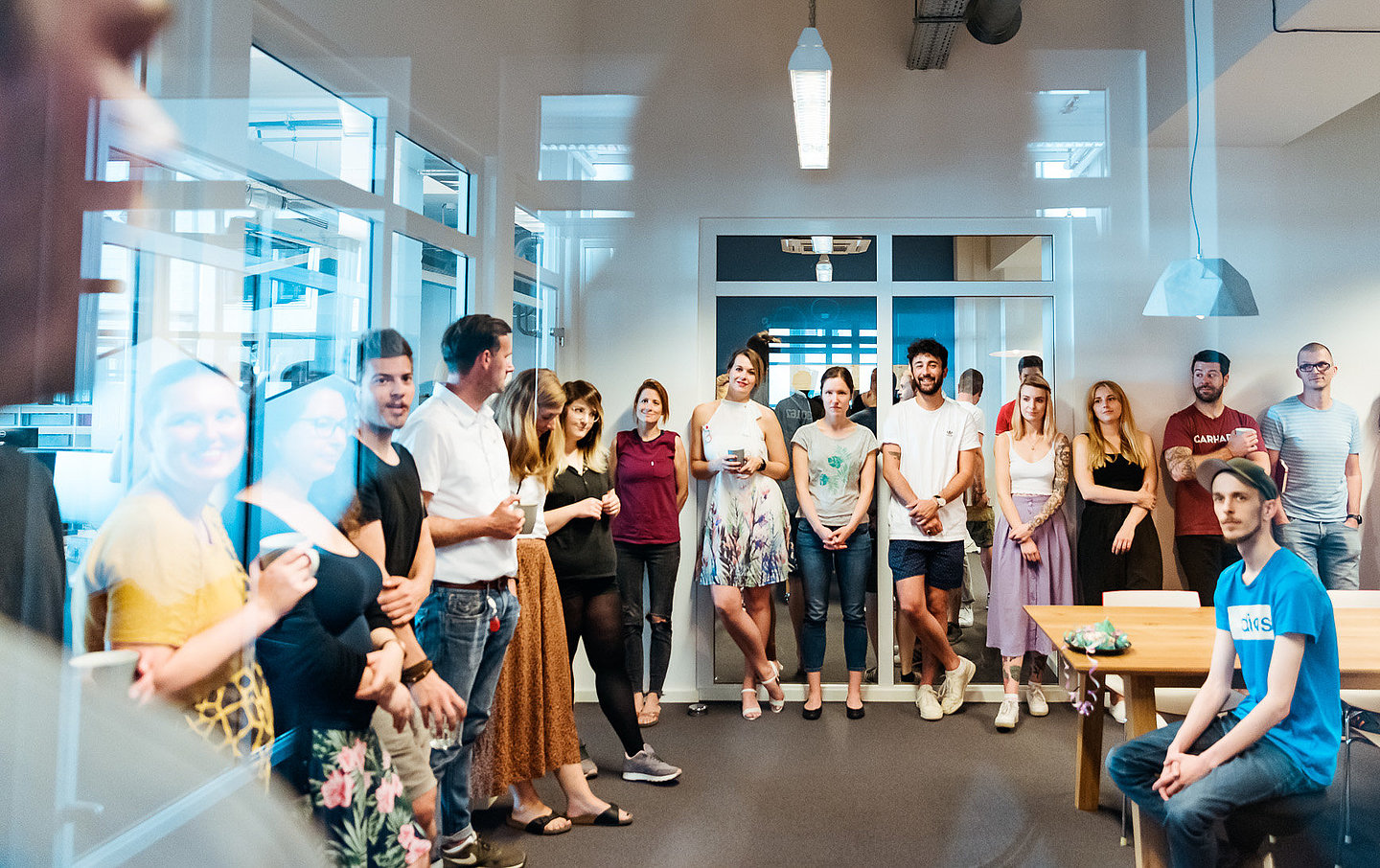 WHY MOVE TO BRANDUNG?
15 Reasons that speak in favour of us
You can't choose your own family, but you can choose your employer. It is understandable that you would therefore like to gain an overview of your benefits working for us. In this case, we submit an application to you first!
Learn more
YOUR CONTACTS
Names are good but it is better to be able to put a face to a name: whom should I actually send my application in this case? With whom will I have my first interview? Your first contact with us always goes through our HR department – and here you get to see directly with whom you are dealing.
EMPLOYEE CENTRICITY
Not just a buzzword but a conviction we have put into practice
Cheesy but true: in the main we absolutely love working here and are proud that people also sense this is the case throughout all the various channels. But at the same time an open feedback culture is very important to us here and we are constantly trying to improve ourselves. Obtain an overview here of what (former) employees and applicants have to say about us.
160 Bewertungen
A BREATH OF FRESH AIR FOR YOUR INBOX
Projects. Trends. Events. Jobs. You can subscribe to brandung's newsletter here.